Forgettable Times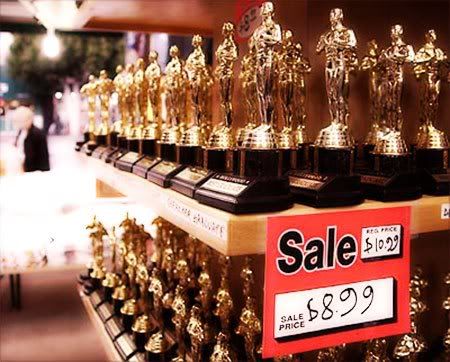 The Oscars should be aspiring, oh well, it depresses me; each year its resemblance of a funeral grows. Is Hollywood dying? Movie business is not bigger than life anymore? Is just a business like any other now? The Ceremony looks like a motivation award for the best salesman.
The american cinema is shrinking in me; it's the size of a bean and it once was time the size of the moon. They projected some scenes from past ceremonies that made me miss the time that I cared. Is easy to tell why's different; I watched most of their movies and none hooked me. The same last year, and the year before that. Since American Beauty I stopped caring. American Beauty and Matrix were the last whisper before the long way down.
There is no risk today, no new real talent, no breakthrough. Everything we have now in the Oscar we already had before 9/11; from Pixar, Cohens, George Clooney to PT Anderson, there is nothing new. Nothing refreshing. Nothing. Today I regret that I cursed Titanic and Gladiator.
The lack of passion disturbs. It should be 'Surprise me, astonish me', but in the first frame the hope of it vanishes. My bored soul makes me watch The Office instead. Or Arrested Development… the TV series have so more heart than movies these days, but still, they can't fulfill the hole left by Hollywood.
I want to blame the marketing. Movie MKT kills its art. Because all that 4 Ps, 7 Ps, new 4 Ps in MKT theory use an underlying principle: mapping consumer behavior. And survey after survey they seek what we want to have at what price.
AVP
anyone? The Survey said yes.
Art became one byproduct of MKT. Spielberg knows it, and he's the last samurai, the only one who can fight a mass marketeer. And more the MKT becomes the universal reason to make movies, more frustrated will be the viewers. Because all you need is a big opening day, it can be garbage, all you need is a brainfuck trailer. And that's why the telly has more heart than Hollywood, TV must deliver its promise, they need to hook us episode after episode. Studio heads don't care if a movie fulfills any promise, the ticket is already bought. They are poisoned by this short-term thinking.
...